Started coarse fishing at the age of 6, initially for pleasure, joined local clubs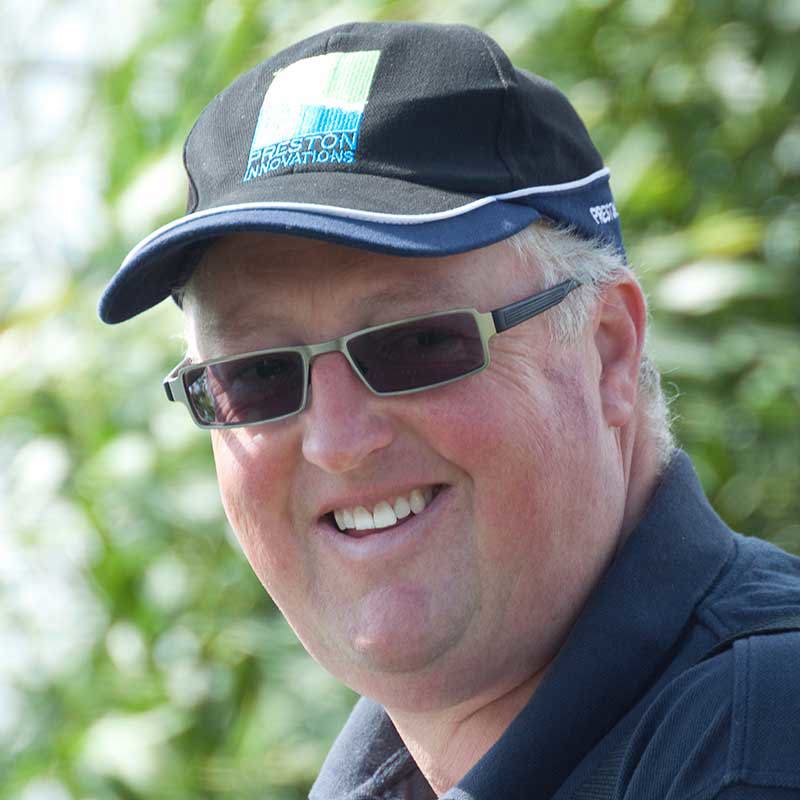 and won individual point's league through junior, intermediate and adult level. Early fishing was spent on mainly rivers and still waters, including the Trent, Witham, Welland and Nene. Move up to the open circuit in my early 20's and fished with teams including Bawtry and Shakespeare Superteam for over 12 years. Concentrated on commercial fisheries in the early 1990's developing all angling disciplines necessary to win on both running line and pole work. Continues to specialise and successfully develop new techniques to remain highly competitive on commercial fisheries.
Angling Achievements
2010 Fishomania Champion, 3 x Fishomania finalist, 4 x Parkdean Masters finalist, Whiteacres festival winner, 3 x Barford festival winner (consecutive), 2012 Larford festival 3rd, Angling Trust Masters runner up, River Thames 5 hour match record hold with 203lb Bream, Angling Times winter league semi-final individual winner, 2 x Ultimate League winner, Angling Plus pole championship winner, 2 x Angling Trust Division 1 National team 3rd, 100's open match wins.
Working with Preston Innovations
Early in 2012 I was delighted and very privileged to be offered a consultant position with Preston Innovations and Sonubaits. Being a consultant from my perspective is about being professional and representing the company in the best possible manner. This specifically includes attending product development meetings, catalogue photo shoots and filming as required. Probably the most important area is ensuring you represent the company as best possible with the angling public, including "on the bank" and exhibition shows, etc. This is only part of the role however, it is also very important from my own personnel perspective to "give back" and be seen to clearly contribute to the success of the company by personal demonstration. This includes organising and writing features for magazines, user reports on new products, occasional work for TV production and representing Preston Innovations in the best possible manner. I'd like to believe my contribution in terms of angling knowledge, skills and experience, aided by an engineering background provides excellent contribution. Working well with the other consultants and staff is also essential with teamwork a key part of the role. My overall contribution is professional and seen to be a "very approachable" consultant as part of the company.
Why go fishing ?
Fishing offers me a challenge and continuously keeps me interested in the sport. Probably the prime factor is the many variables faced with match fishing, such as where you draw, weather conditions on the day, what are the best (winning) methods likely to be? What weight might be required to win? etc. Making the correct decisions in any match is critical to success. Constantly working through these issues retains my enthusiasm. I'm also keen on attention to detail and this help in both developing new ideas for products and ensuring I'm prepared for any match. My enthusiasm for fishing remains very strong, despite the sometimes very challenging weather I'm keen to get out on the bank. Working as a consultant also significantly aids my fishing in terms of helping develop new products and working as part of the team effort. You also continue to learn from each other too.
Favourite method
Long pole shallow for carp
Favourite venue
Larford Lakes
Personal best match weight
225lb from Colton Lake, Barford
Angling ambition
Continue to be successful, enjoy my fishing and win a few matches along the way.
My "Three of the best" Preston Innovation products include-:
Reflo Power, for rigs and hooklengths, without question the best line for every occasion. I have used this line since it was launched and has never let me down, understanding its characteristics; it is incredibly strong and durable and is always my one and only choice. It is very hardwearing and also very supple, shot can be easily applied without fear of damaging the line and know that unused rigs in my box will be good to go even when stored for over a year (out of direct sun light)
Preston Chianti pole floats, probably the most versatile float in the huge range of floats available from Preston Innovations. These floats can do it all from canal to commercial and especially good for when finesse is required on a commercial, on difficult days in summer and hard days of winter. They are very sensitive with a cane tip, allowing them to be shotted precisely to show every indication. No serious angler should be without some of these floats in their tackle box.
Absolute Station, since its launch last year it is the best box ever produced by Preston Innovations. The main feature is its versatility, being a modular system it can be tailored to suit every individual angler's requirement by use of the many types of rig tray and drawer options. The box itself is incredibly stable even with the legs fully extended and with all off box accessories available it offers endless options to suit any angler's requirements. The foot plate is also designed to be easily removed for easy storage and car transportation.
Favourite Sonubait products include
Match Method Mix groundbait, this is my preferred choice for method fishing and general all round groundbait. My reasons are due to the way it mixes and most importantly performs in use. For me the best method mixes stay on the feeder very well during the cast and on entry to the water. Once settled on the bottom it then breaks down quickly and creates the perfect fish catching trap. I have great confidence using this groundbait.
Band' um, these barrel shaped boilies are the best. Since their release on the market I have used them extensively and had many wins using these in their several colours and flavours, I use them all, with the red strawberry my most preferred. They can be banded or hair rigged and often better than normal round boilies because I think the fish find them harder to eject over normal round boilies, hence you hook more fish.