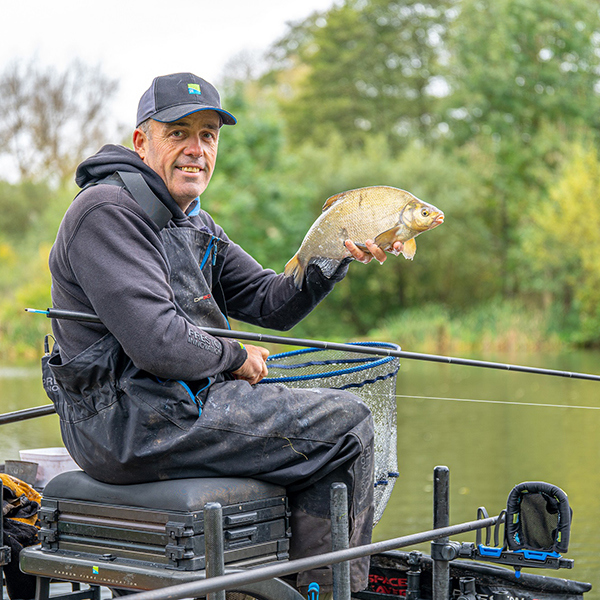 Experience and background - background; used to fish with parents then brother, focusing on natural venues; canals, rivers and lakes etc. Then began
fishing for a local club, this moved on to fishing for Thatchers, which at the time was the best team in the south west of England. In the early 90s when fishing canals and rivers, also became acquainted with commercial fisheries. On the way, picked up more experience in most disciplines. As Thatchers began qualifying for big finals against teams such as Dorking, Shakespeare and Barnsley, continued to gather experience. Eventually was approached by Dorking and decided to fish with them. This again brought chances to fish new venues and that is where my bloodworm and joker fishing began which eventually ended up with me fishing for England. I have now be involved with Dorking for 15 years and team England for around 10 years
Achievements to date - Five team England world gold medals, two European gold medals along with several silver medals. Winner of around 9 festival at Whiteacres, with multiple top 3 results. 2 Parkdean masters wins (First person to win it twice). Kamasan final winner, super-league individual winner. Also lots of other miscellaneous team wins along the way. (As far as I can remember)
Why are you a Preston consultant - approximately 15 years ago I was offered a sponsorship with Preston with a tackle deal and worked up to where I am today where I have got further involved in product development and promotions such as DVDs.
Special disciplines - as I am fishing with England, my float fishing skills need to be covering all angles with pole and waggler but also my early days of fishing involved lots of feeder fishing for Carp and bream which has helped excel me to my current achievements.
What I offer to the company - Product development through vigorous field testing and insight of a constantly evolving sport, always thinking about how things can be taken to the next level.
Favourite way of fishing - I enjoy all styles of fishing but on the right day, my chosen style would be long pole with worms and casters for anything that swims.
Why I go fishing - the challenge of the sport itself is appealing and I love finding new ways to outwit 'crafty' fish.
Motivation - ever since I began fishing matches, the competitive spirit drives me on to continue with my efforts in the sport.
Two products - 1) Slip Elastic ,original. It is perfect for catching fish of all sizes, it runs smoothly and never lets me down
2) PR36 hook. The out-turned eye allows for the perfect hair rig and incredible hooking potential, with a sticky-sharp point to catch hold in any kind of fishes mouth ranging for double figure carp to small skimmers, the PR36 won't fail to impress.
Bait products - 1) Match method mix. Fantastic groundbait, easy to mix and can be used so diversely with feeders or on the pole.
2) Band'ums. These revolutionary hook-baits can turn a good days fishing into a great one. When a standard pellet just isn't the one, a small fleck of colour and a whiff of smell can transform whether the fish are up for a feed or not.
Find out more about Des Shipp's Angling Coaching on the Fish With Des website
Find Des Shipp on Facebook https://www.facebook.com/desshipp